The Distant Present: A Look at Miami's Future as a Global Artistic Gateway
From "America's Winter Playground" to "the Gateway of the Americas," playwright Tarell McCraney explores how Miami's distinctive mixture of worlds (old and new) will grow its artistic wealth.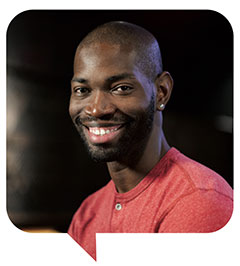 Tarell Alvin McCraney, a native of Miami's Liberty City, is a playwright and a professor of theatre and civic engagement at the University of Miami Department of Theatre Arts. His plays include the acclaimed trilogy, The Brother/Sister Plays, Head of Passes, Choir Boy, And Wig Out! As the Royal Shakespeare Company's International Playwright in Residence, he co-edited and directed the Young People's Shakespeare production of Hamlet, which toured the United Kingdom and was presented at the Park Avenue Armory in New York. During the 2013-14 season he directed his own version of Shakespeare's Antony and Cleopatra, reimagined during the Haitian revolution against the French, at the Royal Shakespeare Company in Stratford-upon-Avon, GableStage in Miami, and The Public Theater in New York City. McCraney is the recipient of numerous prestigious awards, including a 2013 MacArthur "Genius" Grant. He is an associate artist at the Royal Shakespeare Company and a Hodder Fellow at the Lewis Center for the Arts at Princeton University. He is an ensemble member of the Steppenwolf Theatre Company, Chicago, and a founding member of Teo Castellanos/D-Projects in Miami. McCraney is a graduate of the New World School of the Arts High School in Miami, the Theatre School at DePaul University in Chicago, and the Yale School of Drama.