Revolutionizing Music Education: The Frost School at the Forefront
Lectures might be a great way to teach people about things, but they aren't a great way to teach people to do things. At the Frost School of Music the faculty has reinvented how musicians are prepared by designing a rigorous program that nurtures risk-taking, creative thinking, and performance. Learn why educators from across the country are travelling to Miami to see the only school taking this groundbreaking approach. Hear about alums who are better able to create music collaboratively, take risks, and navigate the world to get their music heard. This new approach to teaching has implications beyond music as leaders in every industry continue to press for teamwork, innovative problem solving, and creativity to ensure our successful future.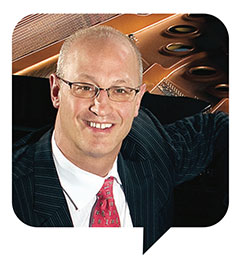 Shelton "Shelly" Berg is a jazz pianist and dean of the Frost School of Music at the University of Miami. At the age of 6, Berg entered the Cleveland Institute of Music studying classical music and subsequently earned Bachelor of Music and Master of Music degrees in piano performance from the University of Houston School of Music.He has mostly devoted himself to being a music educator, but has also recorded and arranged several critically acclaimed albums. Berg received two Grammy nominations for his work as co-producer, arranger, and pianist on Gloria Estefan's 2013 recording, "The Standards." In 2000 the Los Angeles Times named him one of three "Educators for the Millennium" and he was honored as the "Educator of the Year" by the Los Angeles Jazz Society in 2003. He was previously the McCoy/Sample Professor of Jazz Studies at the University of Southern California Thornton School of Music and is a past president of the International Association for Jazz Education. He has appeared as a performer and lecturer throughout the United States as well as in Canada, China, Mexico, Europe, Israel, Japan, Romania, and Venezuela.
Follow the Frost School of Music:
Twitter: @UMFrostSchool
Instagram: @FrostSchoolofMusic
Facebook: Frost School of Music