How I Became Comfortable as That Lady: Racial Identity, Silence, and Equality in American Public Schools
American public schools are a critical part of how we hope to prepare citizens for our democracy. Yet while they hold the promise for an egalitarian future, law professor Osamudia James argues they also simultaneously entrench deep racial inequality. In our society, acknowledgment of race and racial identity is on the wane, with politicians, policymakers, and the legal community all eager to adopt the language of colorblindness. We repeatedly hear that race doesn't matter or that white privilege does not exist, yet we see passionate cries from the students at the University of Missouri and many other groups suggesting otherwise. What happens when people of color enter predominantly white institutions and try to retain their racial identities? James examines diversity and identity in public schools, exploring how "colorblind" laws and policy pose harm not just for people of color, but American democracy. What is the price of admission to privileged white spaces? What is the role of identity in ushering in substantive equality? And how does affirming racial identity bring us closer to the promise of American equality?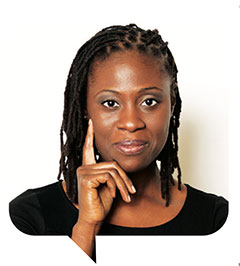 Osamudia James is professor of law at the University of Miami School of Law, where she writes and teaches in the areas of education law, race and the law, administrative law, and torts. Her scholarship explores the interaction of law and identity in the context of public education, and some of her more recent work includes "White Like Me: The Diversity Rationale's Negative Impact on White Identity Formation," published in the New York University Law Review, and "Opt-Out Education: School Choice as Racial Subordination," published in the Iowa Law Review. Her commentary has been published by the New York Times, The Washington Post, and other national outlets. James is a co-recipient of the 2014 Derrick A. Bell, Jr. Award, was named to Lawyers of Color's 50 Under 50 List in 2015, and was selected by Legacy Miami Magazine as one of South Florida's Top Black Educators. She received a J.D. cum laude from the Georgetown University Law Center in 2004 and an LL.M. from the University of Wisconsin Law School. Before entering the academy, she was an associate with King & Spalding in Washington, D.C.