The Power of Yes and Why: The Journey to Happiness, Success, and Fulfillment
Entrepreneur, author, fashion designer, and academic Neri Karra, a member of the University of Miami Class of 1999, recounts her personal journey from a Bulgarian vineyard to a Turkish refugee camp to the University of Miami campus—and from there to London's vibrant fashion and academic circles. She will make the case that hope and inner resilience—saying "yes" to yourself even when the world seems to be saying "no" —can help overcome obstacles and bring dreams within reach.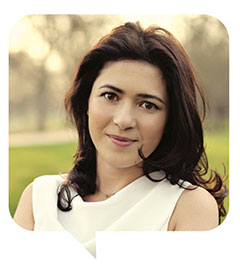 Neri Karra, B.B.A. '99, is the founder and creative director of NERI KARRA, an Italian leather handbag and accessories label based in London. In 1989 her family, along with 360,000 Bulgarians of Turkish ethnicity, were asked to leave Bulgaria. They arrived in Istanbul with two suitcases. In 1996 Karra was awarded a full scholarship to the University of Miami, where she studied business management and graduated summa cum laude in two and a half years. In 2000 she founded her own brand, which has grown to include 27 NERI KARRA boutiques in 14 countries as well as relationships with hundreds of retailers worldwide. Neri has a Ph.D. in management studies from the University of Cambridge and is the author of two books. She teaches at a number of leading colleges and universities in London and abroad.