Masking the Virgin Mary: La Caridad del Cobre and Religion's Resiliency in Cuba
The story of Cuba can be told by tracing the ways Catholicism and African religions have been marginalized, celebrated, and transformed. Religion has left its mark on the island despite centuries of strife and persecution. Perhaps no other religious symbol characterizes Cuban religion more than La Caridad del Cobre. Evoked in 19th-century struggles for independence, honored by Pope Benedict XVI and respected by communists, this patron saint of Cuba has become a symbol of the island's identity and the complexity and resilience of its religious traditions.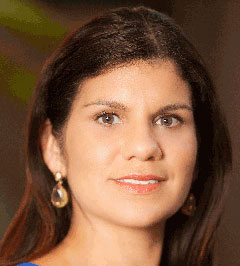 Michelle Gonzalez Maldonado is professor of religious studies and assistant provost of undergraduate education at the University of Miami College of Arts and Sciences. Her scholarship focuses on the religious expression of traditionally marginalized people, and she has completed extensive research on religious traditions in the Caribbean, Guatemala, and Cuba. She is a frequent presenter at academic conferences nationally and has written numerous books, including Created in God's Image: An Introduction to Feminist Theological Anthropology and Afro-Cuban Theology: Race, Religion, and Identity.