Choosing Not to Choose: In Praise of Life at the Intersections in Culture, Science, and Policy
The University of Miami is a global institution that reaches across the borders of geography, identity, and discipline. Learn the journey of one UM undergraduate from his native Brazil to South Florida and to a campus where he faced choices: biology labs or economics problem sets? Policy analysis or soccer? Hear Mateus Lima, Class of 2017, explain why his answer at every crossroads has been "yes." He will reflect on learning across disciplinary lines and make the case for how a University of Miami education is preparing him to tackle some of the pressing issues of the next century by allowing him to live, think, and create in the intersections.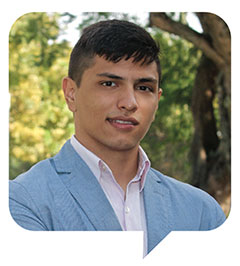 Mateus Lima is a member of the Class of 2017 at the University of Miami. Lima is from Brazil and is majoring in economics and biology, minoring in chemistry and health care management and policy and is also fulfilling the requirements for admission to medical school. He is president and captain of the University of Miami men's club soccer team and is passionate about athletics. He has served as a research assistant in the lab of Julia Dallman, assistant professor of biology, and plans a career focused on improving how health care is delivered.