Theater and Reconciliation: The Power of the Digital Diaspora
Twenty years before the United States re-established diplomatic relations with Cuba, theater artists from both sides of the Florida Straits were practicing their own kind of diplomacy. Lillian Manzor, director of the University's Cuban Digital Theater Archive, discusses the roles that theater and digital culture can play in building community in a moment and across the fraught borders of time, space and nations.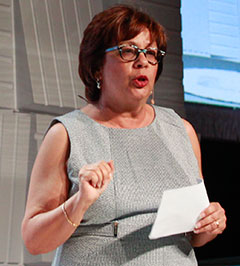 Lillian Manzor is an associate professor and department chair of Modern Languages and Literatures at the University of Miami's College of Arts and Sciences. Her scholarship focuses on Latino/a cultures, performance, gender, literature, and the visual arts. She is the director of the Cuban Digital Theater Archive and curator of Cuban Culture on the Edge. Among her books is Teatro cubano actual: dramaturgia escrita en Estados Unidos, the first anthology of U.S. Cuban theater published in Spanish in Cuba. Manzor has been developing cultural dialogues between Cuba and the United States since 1993.