Exploring the Invisible: Climate, Caves and Culture
Beneath our feet lies one of the most inhospitable environments on earth: underwater caves. Pushing the limits of the extreme, exploring this inner space can help answer fundamental questions about where we came from and what the future may hold for our freshwater resources and our climate. Cave diving also brings into bold relief the cognitive biases inherent in decision making under conditions of uncertainty and why we do and don't worry about contemporary environmental challenges.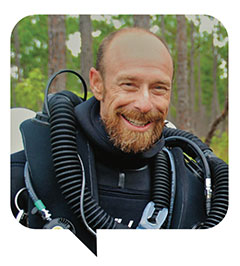 Environmental anthropologist Kenny Broad, M.A. '92, has participated in extreme scientific and filmmaking expeditions on every continent—from studying cocaine distribution patterns to venomous snakes to the deepest caves on the planet—to shed light on little known environmental and cultural subjects. He is a professor at the University of Miami Rosenstiel School of Marine and Atmospheric Science, is director of UM's Abess Center for Ecosystem Science and Policy, and also co-directs the Center for Research on Environmental Decisions at Columbia University, where he received his Ph.D. in 1999. He regularly collaborates with ecologists, climatologists, hydrologists, psychologists, and a range of other strange "ologists" studying perceptions of risk related to environmental phenomenon. Broad, along with the late Wes Skiles, was awarded 2011 National Geographic Explorer of the Year.