Conquering HIV/AIDS: The Road to a Treatable Disease
Join one of the nation's most prolific researchers on HIV/AIDS to learn more about the journey medical professionals have taken to treat this disease. For more than 20 years Margaret Fischl has been part of the team that built the University of Miami AIDS Clinical Research Unit, the first National Institutes of Health-funded AIDS research center in Florida, a state with the highest number of diagnosed HIV infections. Fischl will share her work as an international expert in designing and conducting clinical studies that have led to groundbreaking treatments for HIV and rapid, dramatic reductions in the number of HIV-related deaths. She will also touch upon the challenges that lie ahead as researchers push to identify a vaccine to prevent HIV infection.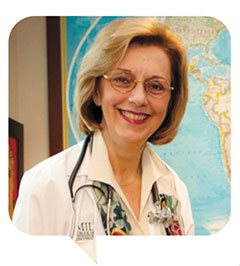 Margaret Fischl, M.D. '76, is a professor of medicine, director of the HIV/AIDS Clinical Research Unit, and co-director of the Miami Center for AIDS Research at the University of Miami Miller School of Medicine. Fischl was one of the first investigators to pinpoint the heterosexual transmission of HIV and was part of the team on the pivotal clinical study that led to approval of the first drug for the treatment of HIV in 1986. She has participated in the design and implementation of more than 150 studies for the treatment of HIV/AIDS. Fischl has been lauded for her pioneering role both locally and nationally for bringing attention to the AIDS crisis from its earliest days and working diligently in research labs and clinical trials to develop treatments to fight the disease. Her work has been published in numerous peer-reviewed medical journals and has garnered continued competitive grant support from major research funders.